Sri Lanka Travel Guide
Welcome to the sri lanka tourism guide. We will provide you with all the inflammations required to spend a holiday in sri lanka, the Excellence of Asia
All necessary instructions to travel sri lanka

The hotels to choose during your holiday in sri lanka

Ethics an etiquette to follow during your travel in sri lanka

Comments and advice of travelers who have enjoyed holiday in sri lanka

Why you should visit sri lanka
Traveler's information
Sri Lanka Holidays with its diverse climatic conditions requires you all to get adjusted to hot & humid zones as well as to hot & dry zones. Then again during the touring holidays we will be getting adjusted from Mediterranean climate to salubrious climate in the Central Highlands of Sri Lanka too. During Sri Lanka Tours, it would be safer to have anti-malaria pills in hot & dry plains. Sri Lanka Travel Guide provides you with information that would of value to our clients.
1. Information concerning the planning stage of your holidays in Sri Lanka
2. Information concerning the matters on arrival at Colombo airport, Sri Lanka
3. Information concerning your holidays in Sri Lanka
4. General information concerning Sri Lanka
5. Information concerning investment in Sri Lanka
6. Information concerning departure
LOCATION: Map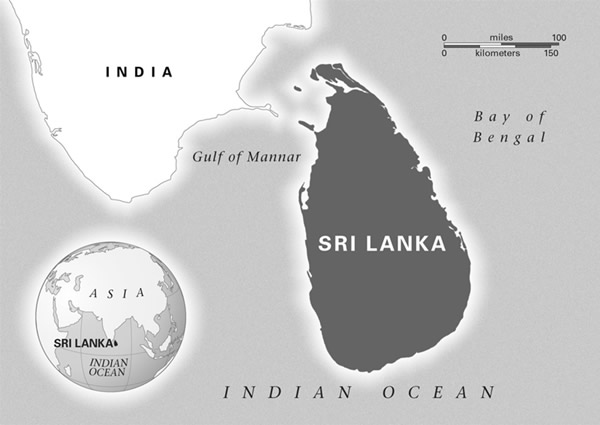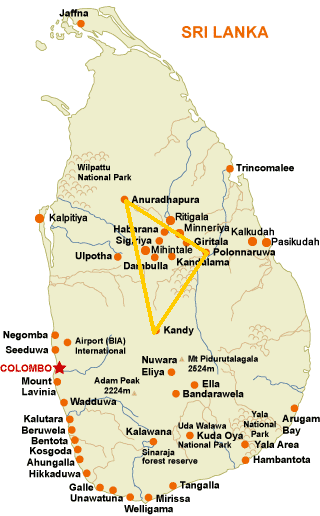 | | |
| --- | --- |
| The Lion Flag (Sinha Kodiya) of Sri Lanka | Court of Arms of Sri Lanka |
| | |
| The National Flag of Sri Lanka | |

1. Information concerning the planning stage of your holidays in Sri Lanka
Best time to tour
October to April if your itinerary includes beaches in the west & south west coast

Location
Island off the south-eastern shores of India, 880 kilometres north of the equator. Sri Lanka's pivotal position on the maritime spice route made Sri Lanka a crossroad of cultural & trade exchange of the West & East. Shallow Palk Strait with a width of 48km (30miles) separates the island from India.

Airlines with on-line operations to Colombo, Sri Lanka
SriLankan Airlines (UL), the national carrier of Sri Lanka is managed by Emirates Airlines of Dubai (non stop flight from London). SriLankan Airlines is reputed for its excellent service by all Sri Lankan cabin crew.
Emirates (EK) with aircraft change in Dubai.
Balair (BB), Condor (DE), Etihad (EY), Indian (IC), Jet (9W), Kuwait (KU), LTU (LT), Oman (WY), Pakistan (PK), Qatar (QR), Royal Jordanian (RJ), Sahara (S2), Saudi Arabian (SV), Singapore (SQ) & Thai (TG)

Climate
Being close to the Equator, Sri Lanka has no climatic seasons & enjoys a tropical climate where temperatures average 27 degrees centigrade all year round on the coastal belt.
Inland temperatures vary according to the altitude. Temperature of Central highlands is much lower than the temperatures on the coast: Colombo 30 degrees centigrade & Nuwara Eliya on average is 12 degrees centigrade.

Rainy seasons
The rainy seasons (monsoon) fall between May to September (South Western area of the island) & December to February (North Eastern area of the island)

Topography
Sri Lanka is flat on the coastal areas, northern areas & north central areas of the island (plains). Central & south-central areas are hilly & mountainous (highlands).

Clothing
The climate in Sri Lanka is warm throughout the year & light cotton clothing is ideal. We would like to see you with a wide-brimmed hat, sunglasses & comfortable footwear. Of course, you can buy such stuff in Colombo too. In the hill country, you will need light warm clothing as the climate is much cooler. You would be blending with the natural surroundings if you could wear earthy colours such as brown or green when you visit wildlife parks in the island. Why shouldn't you be in harmony with the nature when you have an opportunity?

Cameras
Sri Lanka's climate can be humid & thus special care should be taken to protect if you are having high-end camera & camera equipment.

Surfing & diving equipment: water sports equipment are available for rent at beach resorts.

Golf equipments: Golf clubs are pleased to provide you with golf equipment.

Import of liquor & cigarettes
Limited quantities are permitted. You can also purchase scotch, rum, wine & cigarettes at Duty Free shops at Colombo airport & also during your holidays in the island. Whisky galore in Sri Lanka. Arrack (local stuff, the real McCoy) too. And Toddy (coconut palm-mild cider like liquor) for fun too. You are not supposed to smoke in public areas.

Size of the island
At 65,525 square kilometres (25,299 Sq. miles), Sri Lanka is about half the size of England or the state of West Virginia, USA or slightly smaller than the size of Ireland or Tasmania in Australia). Its length from northernmost point at Point Pedro to Southernmost point at Dondra Head is 435km (271 miles) while the greatest width is 240km (149 miles)

Time zone: UTC+ 5.30

International dialling code: +94

Electricity: 230 volts AC

Weights & measures: Metric

Health requirements
Visitors to Sri Lanka from yellow fever infected areas (Africa & South America) should have a valid certificate against yellow fever.
Vaccinations against typhoid, polio, hepatitis A, tetanus & diphtheria are recommended. If required you can have the vaccinations in Sri Lanka.
We will be providing you with bottled mineral water. Cooked food at hotels & restaurants are safe. Fruits are washed. High class hotels maintain high standards of health & comfort.

Visas
Nationals of following countries are issued 30 day visit visa on arrival:

Australia, Austria
Bahrain, Bangladesh, Belgium, Bulgaria
Canada, Cyprus, Czech Republic
Denmark
Finland, France
Germany, Greece
Hungary
India, Indonesia, Ireland, Italy
Japan
Saudi Arabia
Kuwait
Luxemburg
Malaysia, Maldives
Nepal, New Zealand, Norway, Netherlands
Oman
Pakistan, Philippines, Poland, Portugal
Qatar
Romania, Russian Federation,
Singapore, South Korea, Spain, Switzerland
Thailand, Turkey
United Arab Emirates, United Kingdom, United States of America

A further extension of 60 days can be obtained from Department of Immigration & Emigration of Sri Lanka, Colombo

Nationals of countries not specified above are kindly requested to email us regarding visit visa. We will arrange your visa, indeed.

Government: Democracy. The executive consists of an elected president who is head of state, commander-in-chief of the defence forces & head of the cabinet of ministers drawn from a parliament of 225 members.

Languages:
English is widely spoken.
Sinhala (Indo-Aryan language) (language of 74% of the population).
Though Tamil (Dravidian language) is language of only 18.1% of the population, Tamil too is an official language in Sri Lanka.
All government documents for the public are printed in Sinhala, Tamil & English language mediums.

Freedom & tolerance:
Feel free to express your views & practise your religion.
Wherever you travel you will enjoy diversity of views & come across a Buddhist temple or dagoba, a Hindu Kovil, a Christian Church or a mosque, each with its own distinctive architecture.

Working week
Sri Lanka works a five-day week, from Monday to Friday

Hours of work:
Business: 0830 to 1630 hours, Monday to Friday
0900 to 1300 hours, Saturday
Shopping: 1000 to 1700 hours, Monday to Friday
1000 to 1300 hours, Saturday

2. Information concerning arrival at Bandaranayake International Airport, Colombo airport (CMB), Sri Lanka
Welcome to Sri Lanka. From now on we are with you.
Customs at the airport
Sri Lanka has a dual channel system.
Tourists who do not have anything to declare may choose the green channel.
Tourists carrying dutiable goods or items that are subject to licence, or the movement of which are governed by International conventions, are expected to clear through the red channel

Items to be declared at customs
The following items need to be declared to the customs authorities at the airport.
Money in excess of USD5000 in the form of cash, travellers' cheques, letters of credit & bills of exchange
Precious metals e.g. Platinum, Gold & Silver
Precious stones & valuable jewellery (in order to facilitate outward clearance at your departure)
Firearms & dangerous weapons are not permitted into the country
Flora & fauna (Sri Lanka is a signatory to CITES-Convention of International Trade & Endangered Species)
Any goods in commercial quantities

Duty free allowance for passengers staying more than 24 hours:
200 cigarettes or 50 cigars or 250 grams of tobacco or an assortment of these products, as long as the total weight does not exceed 250 grams
Two bottles of wine & 1.5 liters of spirits
A small quantity of perfume or 0.25 litres of toilet water

Firearms & narcotics:
Import of firearms is strictly prohibited

Import of narcotics carries the death penalty. (Caution: Marijuana too is considered as a narcotic. We don't have Dutch style coffee shops in the island)

Currency: Sri Lankan Rupee (LKR) Approximate exchange rate USD1 = LKR 112

Exchange of hard currencies at the airport:
Branches of International Banks & local Banks at Colombo International airport are open 24 hours a day 365 days a year.

Prohibition of currencies: Import of Indian or Pakistani Rupees is prohibited.

Smoking: smoking is prohibited in public places & in streets.

3. Information concerning your holidays in Sri Lanka
Clothing:
Light cotton clothing, wide brimmed hat, sunglasses & comfortable footwear. Standby: light warm clothing when you tour in central highlands.

Medical services
A 24-hour pharmacy is located in all major towns.
State hospitals are located in all major towns.
In Colombo private hospitals & government hospitals are located.
The professional standards of medical practitioners & surgeons: many of them hold British qualifications.
Good private facilities are also available at reasonable rates.

National Hospital (state), Colombo Tel: 011 2691111, 2693510
Nawaloke Private Hospital, Colombo Tel: 011 2544444, 2325020
Ayurvedic Hospital (state), Colombo Tel: 011 2695855/6
Siddalepa Ayurvedic Hospital, Mount Lavinia Tel: 011 2722509/24
General Hospital (state), Anuradhapura Tel: 025 22261
General Hospital (state), Polonnaruwa Tel: 027 22261
General Hospital (state), Nuwara Eliya Tel: 052 22261
General Hospital (state), Galle Tel: 09 22261/95
General Hospital (state), Kandy Tel: 08 34238, 22170-4

Communication
Sound telephone networks & decent internet speeds (including broadband) are available throughout the island.
International Direct dialling telephones, internet facilities are available in all cities.
Privately owned telephone stalls usually with sign boards "Telecommunication Centres" & all hotels offer IDD calls & fax & PC/s with internet connections with adequate internet speed for PC/internet based overseas calls.

Diplomatic missions in Sri Lanka
Australian High Commission: Tel: 011 2698767-9
Bangladesh High Commission: Tel: 011 2502198, 2681310/2
Canadian High Commission Tel: 011 2695841-3, 698298, 695845
China Tel: 011 2694494/1
Cyprus Consulate Tel: 011 2588098
Egypt Tel: 011 2583621, 2508752
Finland Tel: 011 2698819/20, 2699568
France Tel: 011 2698815, 2699750-2
Germany Tel: 011 2588325, 2580431
India Tel: 011 2421605, 2422788/9
Indonesia Tel: 011 2580113
Iran Tel: 011 2580636, 2501137
Italy Tel: 011 2588388, 2588905
Japan Tel: 011 2693831
Saudi Arabia Tel: 011 2682087
Sweden Tel: 011 2688452
Switzerland Tel: 011 2695117
Malaysia Tel: 011 2686090
Netherlands Tel: 011 2596914
Norway Tel: 011 2469611
Maldives Tel 011 2586762
New Zealand Hon. Consulate Tel 011 260299
Pakistan Tel 011 2696301/2
Philippines Tel 011 2696861
Russia Tel 011 2573555, 2574959
Thailand Tel 011 2697406
Turkish Consulate Tel 011 2343311, 2329573, 2437431/2
United Kingdom Tel 011 2437336-43
United States of America Tel 011 2421270, 2448007

Public holidays
01 January - New Year's Day (only for private sector)
04 February - National Day
01 May - May Day/Labour Day
25 December -Christmas Day
Thai Pongal day in January, Good Friday in March or April, Sinhala new year (2 days) in April, Holy Prophet's Birthday in July, Deepavali in October or November are public holidays too

Sri Lankan Airlines
Ticket office is at 3rd Floor, East Tower, World Trade Centre, Echelon Sq, Colombo. 1
Tel: 019 7333723; res: 019 7335500; flight information: 019 7335555; fax: 019 7335312
email: This e-mail address is being protected from spambots. You need JavaScript enabled to view it
We will take care of your outward reconfirmation & other airline related matters on Sri Lankan airlines or/& any other airlines.

Skywards
Skyward is the frequent flyers club of SriLankan & Emirates.
3rd Floor, World Trade Centre, Echelon Square, Colombo 1
Tel: 019 7333333 fax: 019 7335333

4. General Information concerning Sri Lanka
Country
The Democratic Socialist Republic of Sri Lanka, called Ceylon during the British Colonial period (1815-1948) & during the period of 1948-1972. In the year 1972 Ceylon became a republic by the name of Sri Lanka. Name is the combination of the word 'Sri' meaning 'resplendent' & 'Lanka', an ancient name of the island.
Geographical Location: Latitude 50' 55 to 90' 50 N , Longitude 700' 42 to 810' 52 E

Topography: Three planes
Topography reveals that the island can be divided into three planes or steps.
First: 0-100 feet
Second rising from 100 feet to 1560 feet
Third rising to 5850 from Colombo at sea level (low country wet zones-tropical climate) (rainfall 2000-5000mm) to gateway to Hill country, Kandy (Mediterranean climate 100km from Colombo) & travel further up to Hill country at Nuwara Eliya (Salubrious climate150km from Colombo,)

Rainfall
The average rainfall varies from 1,000 mm (39in) over a small region in the arid parts of northwest & southwest to over 5,000mm (197in) at Kagalla (close to Kandy, the gateway to the central highlands) & Nuwara Eliya district (Southwestern slopes of Central highlands)

Number of Islets that dot around the coast of island of Sri Lanka: 113
Number of Key Biodiversity Areas identified in the island: 92
Number of World Heritage Sites in the island: 7 (6 Cultural sites & 1 rainforest)
Number of National parks: 16
Number of botanical gardens: 3

Capital: Sri Jayawardenapura Kotte
Commercial capital: Colombo
Government: Republic

Population:
19 million (2001), of whom 74% are Sinhalese whose mother tongue is Sinhala, a language of Indo-Aryan origin.
The minorities are Tamils (18.1%), Moors (7.1%) Malays & Burghers (descendents of Portuguese & Dutch colonists) (0.8%)
Population distribution: Urban 21.5%; rural 72.2%; estate 6.3%
Population density: 304 people per square mile. Sri Lanka is a densely populated country.

Wildlife & nature conservation
For a country with one of the highest population densities in the world, Sri Lanka is remarkable in having 13% of its land area designated for wildlife & nature conservation

Literacy rate: 91.8%, highest in South Asia

Life expectancy at birth: 74.2 female, 69.5 male

Average per capita income: USD827 per annum, highest among South Asia, SAARC i. e. India, Pakistan, Nepal, Butan & Bangladesh. Yet, Sri Lanka is a low-income country 35% of the 19 million people still subsist below the poverty line

Exchange of hard currencies
Currency may be exchanged at the all the International Banks & Local banks in the island
Bank of Ceylon, People's Bank, Hatton National Bank, Ceylan Bank
Hongkong & Shanghai Banking Corporation, Standard Chartered Bank, City Bank, ABN Bank

Banking hours: 0900 to 1500 hours Monday to Friday

Major crops
Rice for national market (self sufficient in rice)
Tea for International market (The largest tea exporter of the world)
Rubber & Coconut for local & international markets

Major exports:
Ceylon Tea (Sri Lanka is world's largest exporter of tea)
Textile & Garments

Agricultural exports
Areca nut (betel nut), baby corn, betel leaf, baby okra, cantaloupe melon, cardamom, cashew nut, cinnamon, oil of cinnamon bark & leaf, citronella oil, cloves, cocoa, coffee, coconut, cut flowers, decorative foliage plants, fresh fruits, fresh vegetables, gherkins, mace, mushrooms, nutmeg, papain, pepper, rice, rubber, sesame (gingerly) seed & tobacco.

Industrial exports
Aviation & marine fuels, canned fruit, cement, ceramic ware, chemicals, computer software, cosmetic accessories, dairy products, diamonds (re-exported cut & polished), electric/electronic appliances, fertiliser, footwear, fruit juices, furniture, garments, gloves, handicrafts, industrial pumps, jewellery, leather goods, machinery, paper, paper products, petrol, pharmaceuticals, plywood, porcelain figurine ornaments, PVC pipes, refrigerators, rubber goods, silk flowers, steel, sugar, textiles, (cotton/synthetic), toys/sports requisites, tyres, water purification units, wooden products & yarn (cotton/synthetic).
5. Information concerning investment in Sri Lanka
Foreign Investment opportunities in Sri Lanka: The Board & Investment of Sri Lanka (BOI) gives it all.
100% foreign ownership permitted
A skilled & educated workforce. Widespread use of English
A strategic location at the crossroads of East-West shipping lines.
Open Economy
Good infrastructure & Hi-tech communications
No restrictions on repatriation of earnings & dividend
Duty free access to a USD50 Billion Indian market
The region's best incentives & tax holidays
Beaches & Rainforests
Cultural & Architectural sites
12 months summer
Top quality schools & healthcare
Warm & friendly people

Potential Areas for Investment
The fast growing, lucrative market segments in the tourism industry are in eco tourism, business tourism, sports, health & adventure travel.
The attractive package of incentives offered by the BOI is specially designed to enhance the ability of the industry to offer a diverse range
of services to the different segments of the growing leisure market.

The Board of Investment of Sri Lanka, (BOI)
World trade Center, 26th Floor, West Tower, Echelon Square, Colombo 1, Sri Lanka
Tel: (+94 11) 2427000, 2434403-5, 2435027 Fax: (+94 11) 2447994-5,
Hotline: 0777 776 778
email: This e-mail address is being protected from spambots. You need JavaScript enabled to view it This e-mail address is being protected from spambots. You need JavaScript enabled to view it This e-mail address is being protected from spambots. You need JavaScript enabled to view it
website: www.boi.lk

Colombo Stock Exchange
The Colombo Stock Exchange, 4-01 West Block, World Trade Centre, Echelon Square, Colombo 1
Tel: (+94 11) 2440166; email: This e-mail address is being protected from spambots. You need JavaScript enabled to view it www.cse.lk
Colombo Stock Exchange is the country's sole stock exchange. There are no taxes imposed on share transactions, except for a 15% withholding tax on dividends for non-residents.